General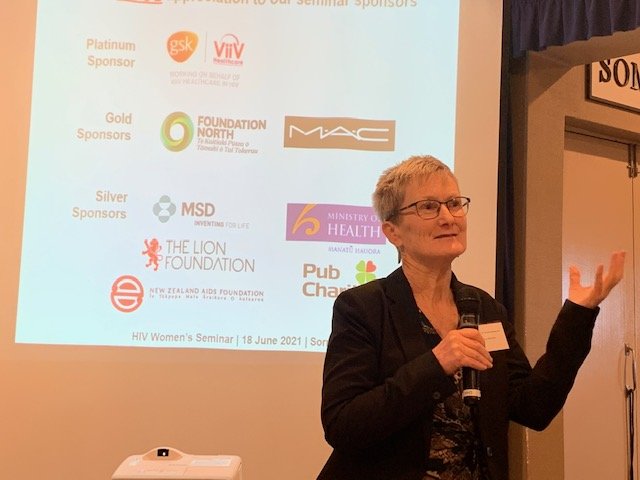 Tena Koutou e te Whanau.
A month has passed in a flash since many of us were together at the Positive Women Inc Seminar and Retreat. Such a joy to meet in person with actual hugs and live presentations. Personal highlights were; hearing our friends and allies Dr Sue McAllister and Dr Mark Thomas deliver the 2020 epidemiology data and Covid update, meeting Dr Alison Green and Dr Tawhanga when they spoke about the Aotearoa HIV Stigma Index: Maori Participants Report, and listening with pride and deep affection to present and past Board members Marguerite, Heather, Judith, Lianne and Abby.
Gratifyingly large numbers of attendees registered for both the Seminar and the Members Retreat. How lucky we are in Aotearoa to be able to gather together for a weekend of nurturing and therapeutic activities! Massage, craft, MAC sponsored makeovers, and most importantly time to relax and gain strength together. We also farewelled Mark Thomas and presented him with a retirement gift. The Retreat could not happen without a huge amount of work by the Operations Team. Nga mihi nui Jane, Marietta, and Megan.
The Positive Women Inc AGM is held during the Retreat as it is the only time when more members are together. The Board was delighted to announce that wahine toa Marguerite and Milly are joining us as members, to guide us as we strengthen our commitment to Te Tiriti o Waitangi  and Kaupapa Maori. The next step will be Board members, Staff members, and the Stigma Index Implementation Working Group attending a training session in August.
Two of our Board members have been unwell in July and we send Arohanui to you and your whanau. Finally, nga mihi nui for your mahi to Raewyn, our Board member from Whangarei for the last three years. Along with a very busy life as Grandmother and Healthcare worker, she has taken responsibility firstly for the Treasurer then the Secretary roles. She also applied her creative talent to providing tokens of appreciation on behalf of the Board. Raewyn has decided to retire from the Board and spend more time with her gorgeous grandsons.
Kia Ora Tatou.
Luca Bree on behalf of the Board.
Return to news