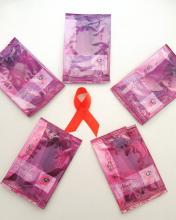 Female Condoms
Seem like a long shot? It doesn't have to be. The female condom is a part of the prevention itinerary and is a must-have for women who believe that sex should be about pleasure, comfort and empowerment. 
SO, WHAT IS THE FEMALE CONDOM?
An alternative to the better known male condom, the FC provides the same level of prevention against STDs and pregnancy but is more sex friendly because a woman can wear it prior to sex. Say goodbye to interrupted foreplay!
HOW DO THEY WORK?
Also known as internal condoms, these little babies are actually small nitrile (a soft plastic) pouches that you can slide into your vagina. This creates ab effective barrier that halts sperm from reaching the egg. Because of this barrier you are also protected from a range of sexually transmitted diseases, including HIV.
ARE THEY EASY TO USE?
Extremely! We like to think that if you use a tampon you can use an FC. Each condom comes with instructions on how you can basically slip them in. There is no discomfort on insertion and once it's there you are good to go. To help yourself further click the following Youtube link for a quick animated demonstration on how to insert your FC:
Easy to use instructions for the female condom
WHY IS THIS A BETTER OPTION FOR WOMEN?
It means you are in control. It means complete independence from a partner's preferences and whims. You get to negotiate sex on your terms.
WHERE CAN I FIND IT?
PWI is your go-to answer. Give us a call at (09) 623 9183 or 0800 769 848 and we will send you some female condoms at cost price (two dollars per condom)
SOME HELPFUL LINKS:
The Universal Access to Female Condom Joint Programme http://condoms4all.org/
SUPPORT http://www.supportworldwide.org/
FC2 Female Condom website http://www.fc2.co.nz
Female Health Company http://femalehealth.com/
World Health Organization: Sexual Health and Reproduction http://www.who.int/reproductivehealth/en/
YWCA Aotearoa http://www.ywca.org.nz/