PWI National Coordinator, Jane Bruning and Community Engagement and Health Ambassador, Megan Rees attended the lovely ACOFI International Women's Day Event.
In late March around 50 wonderful women gathered at a beautifully decorated community hall in Auckland. The purpose was to connect and celebrate the social, economic, cultural, and political achievements of African women in Aotearoa.
ACOFI (African Communities Forum Incorporated), organised 4 inspirational speakers from diverse backgrounds. Each shared important life lessons interwoven with powerful personal stories.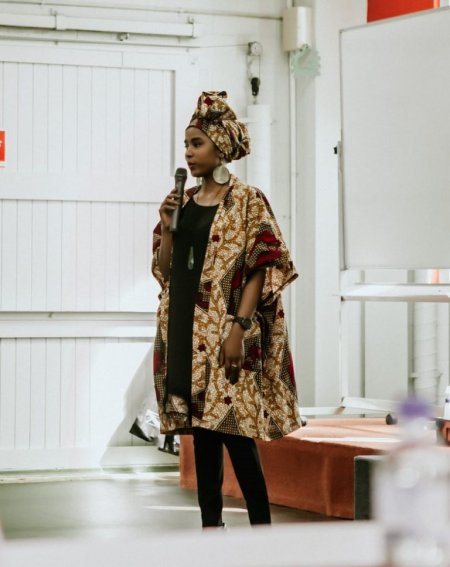 The first speaker was Fatumata Bah, a 28-year-old woman who emigrated to New Zealand in 1996 after fleeing civil war in Sierra Leone, West Africa. Fatumata lives with sickle cell disease and has had to overcome a raft of debilitating symptoms. Despite these difficulties, she has accomplished many great things including a double degree in Psychology and Business Management and is now the Diversity & Engagement Advisor at the Office of Ethnic Communities (OEC). Her talk was spoken from the heart and full of passion for supporting migrants and refugee youth.
Dr Adesayo Adelowo followed with a talk about female empowerment and self-care. She spoke about her life experiences and the adversity she faced. Following a childhood of trauma, Adesayo strove to excel at all things including education, motherhood and her career. Being an overachiever was unsustainable and it started to affect her physical health badly. The importance of slowing down and taking care of herself became crucial for self-preservation. This has led her to become a mentor on a mission to empower women and girls and help raise their visibility and make meaning of their purpose to influence the world.
The next speaker was Sandra Dube. She is the co-founder of organisation and Facebook group, African Girls Aotearoa NZ. Sandra spoke on the importance of having a platform for young African women to connect. She reflected on the various problems encountered by first-generation African migrants in Aotearoa. Having a closed group that is specific to young women makes it a safe space for open discussion. The popularity of the group has proven the need for this wonderful group within the community.
Gynaecologist, Dr Ernest Mavuso was the final speaker for the day. This warm, humorous man gave a wonderful talk on women's health. Drawing from his experiences in both African and New Zealand hospitals he was able to give a worldly view of female issues.
It was a great day full of lots of laughter and great connections. A wonderful way to celebrate International Women's Day. We felt very honoured to be included.
Return to news