General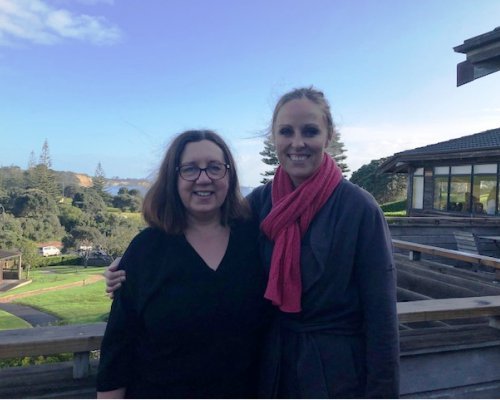 Picture: Marietta on the left and Bec's from Starship Hospital, on the right.
We are very sad to inform you that our social worker, Marietta Chapman, will be leaving the team at the end of January 2022. 
Marietta has been working with Positive Women Inc. for 11 years and we have been extremely lucky to have had her on the team. Marietta is going to be very sorely missed, especially by the many women she has worked with, supported, and assisted over the past 11 years.  Marietta has always gone the extra mile, actually, she has gone an extra 200 miles.  Helping to move people's furniture with her own car when they have moved house, supporting people through immigration, accommodation, and benefit applications which have largely been successful. Calling people just to say hi and to connect, suspecting that they may be feeling lonely or isolated, dropping off little bouquets of flowers in women's letterboxes, hospital transports, and visits. Marietta has for years been organising the HIV Women's Retreat and the Family Hui, which are key events in the Positive Women Inc. calendar and also instrumental in organising for NZ teens living with HIV, to attend the Australian Teen Camp.  One of her more recent projects was to work with the team at Starship hospital to develop a website with information for teens living with HIV. The things mentioned here don't acknowledge even a fraction of the things Marietta does or recognise the commitment and dedication Marietta has given to Positive Women Inc.   A ray of sunshine with her infectious bubbly laugh, we are going to miss her immensely. 
Marietta has decided to take a break from Social Work before looking for a new position but has promised she will stay connected and offer her time as a volunteer.   
Join us for afternoon tea at the PWI Auckland office to say goodbye to Marietta on
Saturday 12 February 2022 from 2.30-4.30 (more details to follow)
Return to news