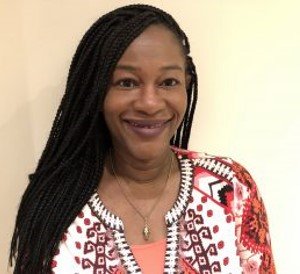 Photo: Dr Nneka Nwokolo 
A very useful outcome of COVID has been that many more people are turning to and using technology to communicate and share information. This has opened the world to webinar and zoom events.  While available before, COVID has meant many people have been forced to start using then. 
One such event held on 16 November 2021, was a webinar hosted by Positive Women Victoria (Australia). on 'Menopause and Women Living with HIV', which included the guest speaker Dr Nneka Nwokolo, a renowned HIV and sexual health consultant, who joined the webinar from the UK.  The invite to attend the webinar was also sent to many different countries and was able to be accessed by a wide number of women including members from Positive Women Inc. NZ.  
The session was very interesting and the main take away, with surprise, was the return to the thinking that Hormone replacement therapy (HRT), is now considered quite safe and recommended if menopause side effects become too intolerable 
The webinar was recorded. If you are interested, you can listen to it by clicking here.
There is also a very good book, 'A Guide to Menopause for Women Living with HIV" which is available online by clicking here.
While specifically targeted at women living with HIV, there are many aspects that would apply to anyone going through menopause. 
About Dr Nneka Nwokolo 
Dr Nwokolo has been a Senior Global Medical Director at ViiV Healthcare since 2019 and has over 20 years of experience in HIV medicine. Prior to joining ViiV, she was a Consultant Physician in Sexual Health and HIV Medicine at Chelsea and Westminster Hospital and the Dean Street Clinic in London, UK where she has worked since 2001. Her special interests include the sexual and reproductive health of women living with HIV, particularly about contraception and the menopause. She does a monthly HIV menopause clinic in London and is currently involved in efforts to improve access to combination prevention for women. She is the author of many peer-reviewed scientific articles and book chapters. Dr Nwokolo also provided expert advice on the Guide to Menopause for Women With HIV.
Return to news