General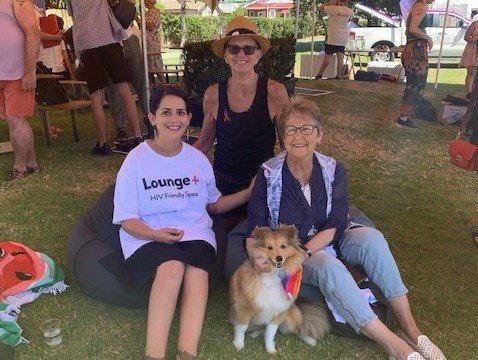 Image: Jan Waddell pictured on the right at the Positive Lounge, Big Gay Out 2021
Written by Marguerite Donaldson - Co-Chair
Ok…here I am sitting way down in the deep South babysitting the grandkids for the school holidays. Up until now the weather had been photo perfect, sunny t-shirt days, ice cream and getting the vegetable garden sorted thanks to New World and their "Little Gardens", and me buying food to get the vegetables the mokos probably won't even touch! And now it's snowing! It's going to be Board Games…I hate playing board games with them - they cheat, they're terrible losers and even worse winners. Yes, it runs in the family, but at least I laugh quietly…they're feral!
And so life goes on.
In August, we as a new Board, had our first face-to face meeting in Auckland. It was a very welcomed opportunity for everyone to get to know each other that little bit more, and to have Sandy come in and give some Board training, gave the meeting itself a nice head start. The three new members fitted in really well and there's definitely some hidden talent there that needs to be explored! Face-to-face meetings are worth their weight in gold. I'm not going to go into the pros and cons of these sort of meetings compared to zoom, but time spent together in the reality, allows us to forge relationships that are cohesive to help operate a successful group. Well I feel we've done that…and got it!
I know that in the last few months some of our members have been challenged through many facets of life…moving, changing jobs, health issues, loss of loved ones. It's not easy, especially when one is thrown an unexpected curve ball. On a personal level… I miss Jan. A staunch activist for PWI, I would always catch up with her, Jim, and the beloved dogs whenever I was down this way. Gosh I don't think I'm the only one that Jan has left a huge footprint on. I think we've all had that someone in our life.
And so life goes on.
Take care everyone…be safe, and enjoy life for the moment. And don't forget to smile - it can be contagious.
Nga mihi
Marguerite
From the Board
Return to news