General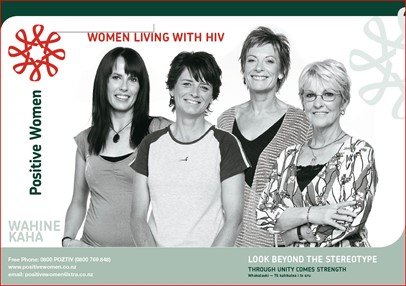 Picture: Jan (far right) on the artwork for the 'Look Beyond the Stereotype' Campaign.
We have asked Jan for permission, which she has given, to let you know she has Stage 4 Lung Cancer and is a bit poorly. 
Jan has been a member of Positive Women Inc. for more than 15 years after contracting HIV through a work-related needle stick injury while caring for a patient who had AIDS.  Over those 15 years, Jan has been a Board member twice, she is a Positive Speaker and was instrumental in the shift towards the use of retractable needles by many DHB's in Aotearoa New Zealand, after hearing her talks which were done in conjunction with BD, a global medical technology company who booked Jan to talk at many of their conferences. 
Jan has been involved in numerous Positive Women Inc. campaigns, most significantly the first HIV Destigmatisation Campaign for Women (Look Beyond the Stereotype) released in NZ in 2007. She has represented Positive Women Inc. at three international AIDS Conferences and has also become a very good friend and support for many of our members. 
Thank you, Jan, for your dedication and commitment to Positive Women Inc., to the HIV sector and for fighting the big fight for HIV and stigma, which is something Jan feels very strongly about. 
Jan is on Facebook. If anyone would like to reach out and say Hi, we think she would like that. 
Return to news