Updates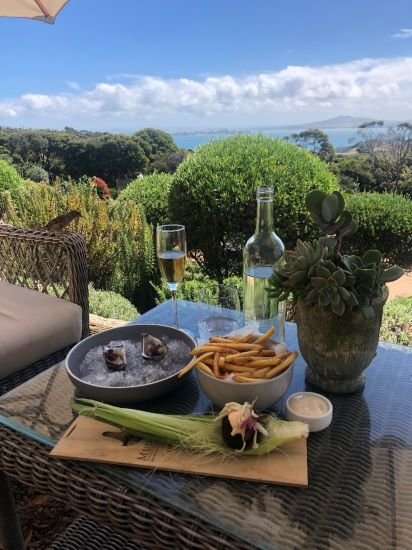 ---
Photo: Lunch with a view of Auckland City from Mudbrick, Waiheke Island 2022 
Tena koutou katoa and hari tau hou 
Welcome to the first Coordinators update for 2022.  
January and February are generally rather relaxed months for Positive Women Inc. as most people are still on holiday, so it is a great time for the team to take some time off and set ourselves up for the year.  I was very fortunate to house/cat sit for a dear friend on Waiheke Island for two weeks. Even though it is still in Auckland and only a ferry ride away from where I live, it felt like I had latterly gone overseas to some resort island for a couple of weeks.  Lunch at Mudbrick Café is always one of my favourite things to do and such a splendid location as you can see by the photo. The oysters were a bit expensive at $7 each, hence only 2. They were divine, quality over quantity. 
Lots of great stuff to catch up on this month. Check out the zoom Health and Wellbeing workshops for women living with HIV that Megan has organised. Click here.   Some great workshops and opportunities for reducing isolation through connection, building knowledge, and strengthening personal health and wellbeing, especially in the regions and in the current COVID climate.  Click here to read about the wonderful workshop run in January on Mindfulness and Self Compassion. 
The Positive Speakers Bureau has had to pivot, I think that is the current word, to ensure we can still offer our services but in new and innovative ways. To read more click here.  
Continuing with the pivoting theme, Positive Women Inc. is currently undergoing a consultation process with our members to identify alternative ways we might run the three-day HIV Women's Seminar. As many of you will have experienced, booking events and keeping fingers crossed they will happen is not a sustainable strategy. 
Even with two members down, our new Board is working very hard with the current focus being on the organisations journey of working collaboratively with tangata whenua and incorporating te Tiriti and Tikanga Māori into the culture of the organisation. A huge shout out to our two amazing Board members, Milly Stewart, and Marguerite Kawana, our two Māori co-chairs, who are guiding us on our journey.  Click here to read the Board's update.
We had to postpone Marietta's leaving do. While she has left us and we miss her so much already, we will reschedule a farewell for her as soon as we can.  We will keep you posted.  
Due to the current COVID restrictions, we have decided to wait a little while before recruiting a new Social Worker as it will be very difficult and possibly unfair on a new person to be inducted into this role under the current restrictions.  We hope to re-fill the position as soon as it is feasible. 
Finally, I would like to draw people's attention to the article on Payroll giving. Click here. As you can imagine, times have been very tough for small NGO's like Positive Women Inc.  We have managed to hang in over the past couple of years thankfully, but we are still riding the COVID crest of the wave and there is a long way to go until we are safely on the beach. We appreciate many people are struggling and don't wish to apply any pressure to anyone, but if you are able to put a little aside ($10 a pay day), it all helps. We thank you in advance if you can help and understand fully if you can't. 
Ma tini ma mano, ka rapa te whai. 
Many hands make light work. Unity is strength. 
Kia kaha 
Arohanui Jane Bruning, National Coordinator, Positive Women Inc. 
Return to news