A bit of a roller coaster start to 2021 as we saw a surge in bookings, only to have them postponed due to the changes to the COVID levels. Unfortunately, this will be the norm for some time now. The great thing is we can deliver our presentations on zoom now. We have the processes and procedures in place to do this quickly so we can continue to offer this as an alternative, if and when we need to.
Since the last newsletter, the PSB speakers have been involved in more professional development with our Webinar Series. One of our own members – Charlie Tredway, has hosted two webinars "Delivering Key HIV Messages to Audiences" and more recently "Integrating HIV Facts and Information into our Personal Stories". Both of these webinars provided the PSB team with practical advice and tips and we have had some great feedback on how useful they are. We hope to get some more funding so we can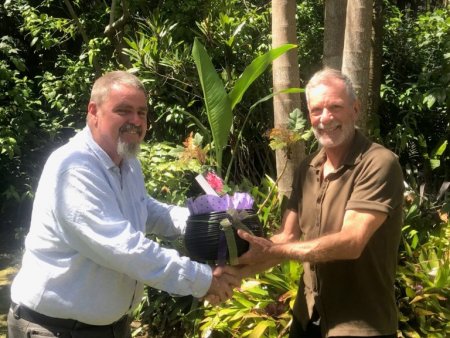 continue the series and keep adding to our topics list. Other than some super learning and sharing, it is also a special opportunity for the PSB team to come together and connect as a community. It really is so wonderful to see everyone's faces, even if it is via zoom ?
It is with mixed emotions that we farewell a PSB Founder, Speaker, Trainer and fierce HIV advocate – Russell Holmes. In February, Shane Foreman and his sidekick headed up to see Russell to present a gift – a Travellers Palm for his garden. We think fitting in every sense. Russell is going to take it easy and spend more time with his partner Mike, family and enjoying his retirement pottering in their garden in the tropical Taitokerau.
Russell, on behalf of everyone, thank you for being part of creating the Positive Speakers' Bureau kaupapa, your 24+ years of mahi and aroha has been invaluable. You have helped end stigma and discrimination through education and advocacy and carved a pathway for people living with HIV to walk. You are a hero Russell.
So while this is farewell for now, it's never good-bye as you are, and will always be part of, our whanau. Mā te wā
Abby
PSB Coordinator
Return to news