Positive Speakers' Bureau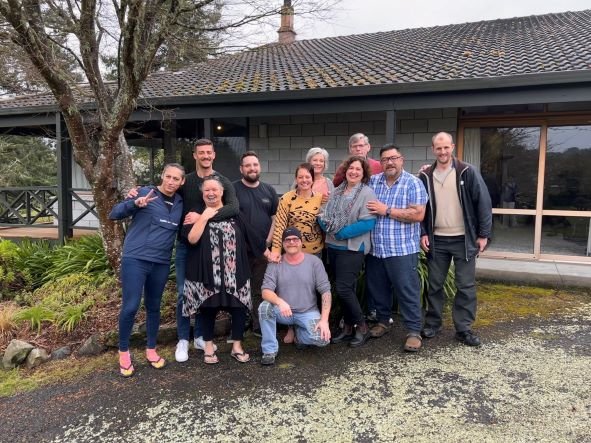 Image: The PSB speakers at the Whakataki Training Weekend in Taupō.
Written by PSB Coordinator, Tim Bennett.
The year is progressing, and I am settling into the PSB Coordinator role, getting to know our speakers and partners. 
Congratulations to the new trainees (pictured) who recently completed the PSB Whakataki New Speakers weekend in Taupō. Unfortunately, I could not attend the workshop myself due to COVID, but I got to spend some time with the group, hearing their stories and getting to know them via zoom. We have such a beautiful and rich diversity within our community, and it is such a moving experience to hear the unique lived experiences of these people. 
With the easing of COVID restrictions, our speakers can get back out into the community and talk kanohi ki te kanohi | face to face with audiences. COVID has, however, given us new tools to work remotely as well, enabling us to provide our service in more diverse ways.
We are taking bookings for upcoming events through the remainder of 2022 and into 2023, including World AIDS Day on December 1. Contact us at contact@positivespeakers.org.nz if you would like to book a speaker for an event, study day, or professional learning meeting, or visit our website at www.positivespeakers.org.nz to find out more about our free service.
Ko ngā pae tawhiti whaia kia tata
Ko ngā pae tata whakamaua kia tina.
The potential for tomorrow
Depends on what we do today.
Return to news